The Indomitable Lions Have Arrived
June 9th, 2010 | by: shane |

View Comments
Cameroon arrived in Durban, South Africa today as the start of the World Cup draws nearer with Cameroon set to debut against Japan on Monday in the Free State Stadium in Bloemfontein. The Indomitable Lions are in South Africa after spending the past three days at home in Cameroon. Manager Paul Le Guen contends that the three day training camp in Yaoundé served to strengthen team spirit.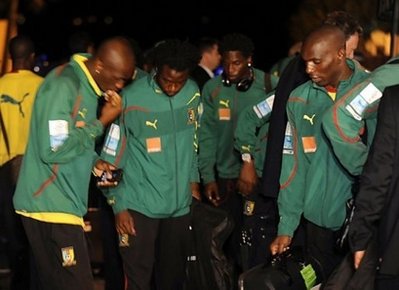 Now that the Lions have arrived in South Africa, Le Guen is ready for his squad to get settled in and begin the final stage of preparations. With so many of the World Cup teams facing injury worries to star players and squad players alike Le Guen is delighted to be able to have a full squad, "There's no problems, all the players are available and I have no one injured," he said. "I can count on the full 23, and that's what I wanted." With no injuries of any kind to speak of yet there will be no built-in excuses for the Indomitable Lions if they fail to perform.
Prior to departing Yaoundé, Le Guen was grilled by Cameroonian journalists about his inability to play a consistent group of players with each other. A legitimate critique in my estimation. Naturally Le Guen defended himself against the charges by stating that the Indomitable Lions will come good, "It was not all about results of the matches. As an experienced professional, I can tell you that the final team will do a lot at the World Cup." Le Guen's optimism will mean nothing come Monday when the teams take the pitch. Hopefully the faith that he has in the players has instilled belief in the whole squad that they can compete with and defeat every team at this tournament.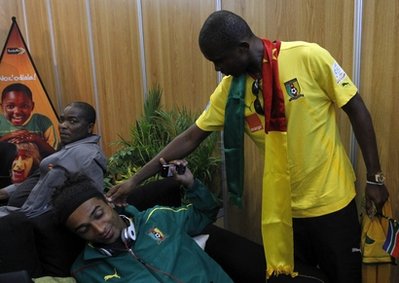 -As you may have seen on the main page of this site Cameroon enter the World Cup with the fourth youngest squad at an average age of 25.2 years. Only the Ghanaians, North Koreans and Germans have a younger squad.
-Cameroon are the only nation who have brought two teenagers to the World Cup, being Vincent Aboubakar and Joël Matip. In all there are a mere 7 teenagers at the World Cup this year. Contrast that to 2002 when Cameroon alone brought 6 teenagers to Japan/South Korea.
-While Cameroon have one of the youngest squad they also enter the World Cup with the most experienced international campaigner in terms of caps. That of course being Rigobert Song and is 136 appearances in the Cameroon shirt. Song is making his 4th World Cup appearance (94, 98, 02).
-Fifa have granted an amnesty to African players who were sent off in the Africa Cup of Nations back in January. A Fifa spokesman explained the decision with the fair logic that because CAF was the only federation to stage competitive games since the end of qualifying it would not be fair to punish those players. This amnesty means that Cameroon's Aurélien Chedjou is not facing a suspension at the start of the World Cup as a result of his red card in Cameroon's quarterfinal defeat to Egypt. The other players benefitting from this amnesty are Côte d'Ivoire's Emmanuel Eboue and Algeria's Faouzi Chaouchi and Nadir Belhadj.
Subscribe

Cameroon World Cup Team Blog RSS Feed

Share
blog comments powered by Disqus