Preview: Cameroon vs. Japan
June 13th, 2010 | by: shane |

View Comments
After months of buildup following Cameroon securing qualification for the World Cup with a defeat of Morocco on the final day of African qualifiers, the Indomitable Lions of Cameroon will finally debut tomorrow against perennial Asian qualifiers Japan in Bloemfontain.
Fans of Cameroon see this match as one that the Lions should win and I would argue that it is a near must win. With Japan on paper looking like the weakest of Cameroon's opponents, dropping points tomorrow could well prove fatal. Japan are a side like Cameroon coming into the World Cup in less than spectacular form. Japan lost all three friendlies they contested in the final weeks leading to the World Cup. They fell 2-0 to rivals South Korea, 2-1 to England and 2-0 to Côte d'Ivoire. It should be noted that they led England for most of that match and both English goals came as a result of Japanese own goals. Still Japan have not tasted victory since March as they also lost their friendly in April at home in Osaka 3-0 to Serbia.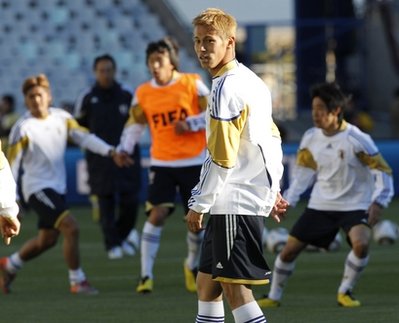 Since the majority of the Japanese squad play domestically I am not familiar with many of their players. I can tell you that Shunsuke Nakamura who should reach 100 caps during the tournament is known to be a dead ball specialist and has enjoyed a great career. He will be looking for one last shot at greatness in the World Cup. Young Keisuke Honda figures to be a pivotal figure for the Japanese. Honda is coming off a very impressive season for CSKA Moscow in Russia and helped his club reach the quarterfinals of the Champions League. Japan will be looking to Honda to put the ball in the back of the net. The only other player I am particularly familiar with is Takayuki Morimoto of Italian side Catania. Like Honda he is a promising young player and figures to be one of the figures Japan will build around in the future. But his lack of caps for Japan indicate that he is not yet a key player and will not be expected to start. It is an experienced Japanes side as 5 of the 23 players in the squad have over 80 caps and many of them have experienced the World Cup before. For more and better information on the Japanese I would strongly urge you to check out the Japan blog on this site.
For Cameroon the strategy going into the match is likely to be simple. The Indomitable Lions will look to dominate the game in the midfield where they possess a number of strong physical ball winners, although Alexandre Song is looking at starting from the bench as Paul Le Guen is worried he does not have the speed to deal with the Japanese attack. Cameroon will be hoping that their superior size and physicality will eventually wear down the small and fast Japanese team. I would expect a lot of strong challenges from the Cameroon midfield and defense as a warning to Japan. Such a strategy could backfire though as one bad challenge could see Cameroon down a man. Le Guen and the coaching staff would do well to recognize the straight red card shown to Australia's Tim Cahill as a warning to his players of what kind of tackles not to make.
If Cameroon can win the midfield and possession battle then I would expect to see most of their attacks coming from the flanks, particularly the left wing where left back Benoît Assou Ekotto has been in spectacular form delivering three assists via crosses during Cameroon's recent friendlies. Cameroon will hope that strikers Eric Maxim Choupo-Moting and Achille Webó can deliver in the air. Webó has been lethal with his head in recent games. Though it is a doubt both will start. Out of favor striker Mohammadou Idrissou could be set for a substitute appearance as his size would likely pose the Japanese defense some problems on crosses and set pieces. Obviously Cameroon will be looking for Samuel Eto'o to lead the attack but he is likely to need the help of Achille Emana who should be slightly withdrawn behind the two strikers though he could play on either wing. Japan's manager has already stated that they will attempt to mark Eto'o with multiple players so it could prove a frustrating evening for Samuel. He will have to work long and hard for the cause, but Eto'o never quits running on offense or on defense.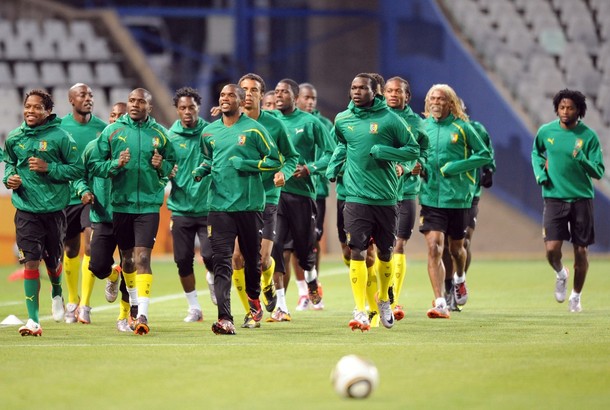 I expect a cautious start from Cameroon tomorrow, really every team so far in the World Cup with some exceptions like Mexico, Argentina and Germany have started very cautiously. And with the defense still suspect I would believe Le Guen will not want to attack too eagerly at the start. Hopefully though Le Guen will let the lions loose eventually, especially if they are to fall behind or if they are still looking for the lead as three points in the opener will be very valuable.
Of course as I detailed yesterday Le Guen announced two major changes to the squad for the Japan match with Carlos Kameni out as the number 1 keeper, a spot he has occupied for the last 7 years. In is veteran keeper Souleymanou Hamidou, the 36 year old is getting a chance even he probably did not dream of getting coming into this World Cup. I hope for his sake and for Cameroon's sake that he plays more confidently than he did in the friendly against Serbia. Also Alexandre Song will almost certainly be on the bench from the start. These two changes makes it slightly harder to predict the starting line up as with Song dropped it could move Mbia out of defense and into the midfield or perhaps Landry Nguémo or Joël Matip who was used sparingly in the friendlies will move into midfield.
My complete guess for the starting line up really depends on where Mbia is deployed. If he is in the midfield then Bassong will partner Nkoulou with either Mandjeck or Geremi at right back. Geremi's strong showing against Serbia and his experience could see him get the nod but that would not fit with the rest of Le Guen's logic. If Alexandre Song is on the bench due to concerns about his ability to deal with Japan's speed then the same would hold true of Geremi. Therefore, here is my guess:
Hamidou-Mandjeck, Bassong, Nkoulou, Assou Ekotto-Makoun, Mbia, Enoh-Emana-Eto'o, Choupo-Moting
Camfoot believes that Mbia will be in defense with Matip in midfield alongside Enoh and Makoun. They also think Webó will start over Emana. If Emana starts on the bench I may lose my mind as a warning to all of you. If Emana is on the bench then Cameroon have no one capable of creating for the forwards from the center of the pitch. This will isolate Eto'o and allow Japan to easily mark him out of the game. With Emana on the bench then Cameroon will be forced to play a long ball offense that will not be fun for the eyes and is likely to be very difficult to successfully create goals especially with most of the teams in the World Cup so far struggling mightily with their aerial passes. Simply put I don't think Cameroon can win this game if Emana is on the bench. We have seen before how pitiful the Cameroon attack can be without him for we have also seen how the attack struggles if either Eto'o or Emana are on the pitch but not playing effectively. I have already started believing that Le Guen has lost his mind and is out of his depth, that belief will only be confirmed should Cameroon start the match without Emana on the pitch.
At the end of the day I will be happy as long as Cameroon get the three points. I may not be content with the performance but I will be happy. I will refrain from a prediction because I am scared of what may happen tomorrow. I think this Cameroon team could go far if they play to their potential but it is hard to play your full potential when your best squad will not be on the field, which it will not be for Cameroon, we know that much already. Le Guen's selection choices may work out in the end but Kameni is the best keeper they have and Song is a better holding midfielder than everyone except possibly Mbia. Whoever the 11 hopefully they play as a team and can find a way to win, emulating the formula used by the Black Stars of Ghana who always play well regardless of who takes the pitch.
Subscribe

Cameroon World Cup Team Blog RSS Feed

Share
blog comments powered by Disqus