Kameni, Alex Song set to be Dropped, Le Guen Crazy?
June 12th, 2010 | by: shane |

View Comments
Reports coming out of Paul Le Guen's press conference today indicate that Cameroon number 1 goalkeeper Carlos Kameni is no longer the number 1. Le Guen announced that veteran Souleymanou Hamidou will start for Japan. Unbelievable and an unforgivable move if it happens. Kameni has been criticized for his performance at the Nations Cup where he was largely a disaster as well as for the second goal he let in in the friendly against Portugal. Despite that he is a top-level shot stopper who has many times kept his club team Espanyol in games.
Meanwhile Hamidou who has been the long time back up struggled mightily himself in the friendly against Serbia. He was directly responsible for one of the goals. He also flapped at numerous crosses and in the first half did not inspire any confidence in his defense. He did improve in the second half of the friendly but he quite simply is not a keeper of the class of Kameni. Frankly if you are going to drop Kameni it should be for Assembé in my opinion.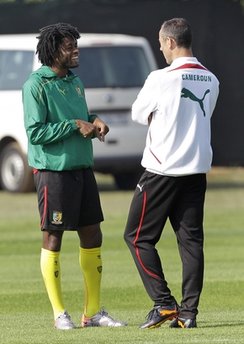 The other big shock from his press conference is the bombshell that Alexandre Song is not likely to make his World Cup debut. Le Guen explained, "Alexandre Song may not start the first match against Japan. This does not mean there is anything bad about him. He is a great player. It's just that I want to start the tournament with the most competitive team." This is a truly baffling statement. Song has established himself as one of the best holding midfielders in the world and has acquitted himself well in Cameroon's friendlies. Now is most likely not the time to make two drastic changes to the squad. And these if they happen are drastic changes.
These changes smack of an air of desperation on Le Guen's part. Le Guen has talked about his optimism in the team and saying they would be at their best when the tournament starts. I don't think these are the moves an optimistic manager would make just days before his team play their first World Cup match. I have to say I vehemently disagree with these decisions if in fact they take place. The dropping of Kameni seems certain and I can't see why he would hint at Alex Song being on the bench if there was any chance of him starting.
With these changes in mind it throws the starting line up into a bit of disarray. The conventional wisdom was the Stéphane Mbia would be starting in defense but with Alex Song starting on the bench it makes me think that Mbia must be moving into the holding midfield role with Bassong at center back and Georges Mandjeck likely at right back.
Whatever the case these are bold moves, astonishing really. Will they backfire? I certainly hope not but my confidence in Le Guen which had been steadily eroding since the Nations Cup has reached an all time low.
Subscribe

Cameroon World Cup Team Blog RSS Feed

Share
blog comments powered by Disqus