Denmark Edges Cameroon 2-1, Lions First to be Eliminated
June 19th, 2010 | by: shane |

View Comments
Heartbreak for the Indomitable Lions of Cameroon today as they became the first team eliminated from the 2010 World Cup following a 2-1 loss to Denmark. Thus Cameroon have played their last meaningful World Cup for at least 4 years as the final match against the Netherlands is just for pride. Some thoughts on the match:
-Paul Le Guen actually got the line up right today with one exception. He fielded 10 of the 11 players I suggested in my post on whether the Lions could be fixed or not. And we saw what Cameroon were capable of as an attacking force as a result. The line up was
Hamidou-Mbia, Nkoulou, Bassong, Assou Ekotto-Geremi, Enoh, A. Song-Emana-Webó, Eto'o
-The one spot where he didn't get it right was starting Enoh over Makoun. In the Japan game I felt that Enoh was the worst player on the pitch as he needlessly gave possession away time and time again. Today he played a dreadful first 45 minutes and was given the hook for Makoun at the start of the second half.
-Benoît Assou Ekotto can be a very valuable offensive weapon for Cameroon. Today he was a complete defensive liability and it cost the Indomitable Lions.
-Achille Webó put in a much better performance today. He needed to step up and he did so. He intercepted Christian Poulsen's lazy pass (Were Juventus fans laughing or crying when they saw that?) and fed Eto'o for the Cameroon goal. And he never stopped working for the second goal the rest of the way. Webó redeemed himself today as did most of his teammates.
-Samuel Eto'o was played centrally today and what happened? He delivered a world class performance. He scored the goal and hit the post later on. He also created a number of chances for his teammates throughout. In short he was a danger man the entire game. A captain's performance and one that deserved to be rewarded with at least a point.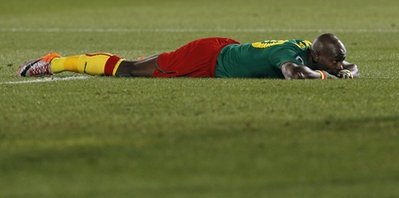 -What happened to the Cameroon attack today? Achille Emana and Geremi started that is what. And Eto'o was played in his real position. Emana was a real weapon today and the Danes struggled to deal with him. Emana went on a great solo run that saw him get past three Danish players, unfortunately he did not have the finish that would have capped a superb goal, one we would be seeing for some time. Emana was also denied late on in the game by a stunning save by keeper Thomas Sørensen, a save which sealed the win for Denmark and consigned Cameroon to elimination. For Emana it was a performance that only lacked a goal, a goal which would have kept Cameroon in the competition, though admittedly on life support. Geremi was also an improvement as he provided width to the midfield and crossing into the box. Something Enoh and Matip could not do.
-Alexandre Song showed why he should have been preferred to Joël Matip against Japan with a classy performance including a goal saving clearance. Why he was ever dropped is another question entirely.
-I never would have thought Vincent Aboubakar would see the pitch during the World Cup unless it was a meaningless match. Not only did he play but he came on as Cameroon were desperately seeking an equalizer and Aboubakar had a great chance at getting it only to see his strike deflected away by a Danish defender.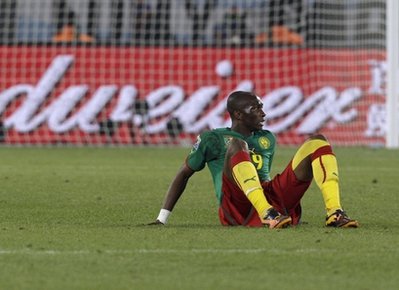 While it was good to see Le Guen get his line up almost spot on today, it came too little too late. And that can be blamed on only one man: Paul Le Guen. In essence Le Guen wasted Cameroon's first game of the tournament. When you are only guaranteed three matches, wasting one is not an option. If this was the Champions League or a Domestic campaign then fine. But at the World Cup it was unacceptable. Especially since it came against the opponent that looked to be the most winnable match. For a manager to get his line up and tactics so spectacularly wrong in an opening match of a competition with just three guaranteed games is stunning. Cameroon today may have lost but they showed what they are capable of when a logical starting 11 is fielded. What would 90 minutes of Emana meant against Japan? What would 90 minutes of Eto'o playing as a striker meant against Japan? On the basis of Cameroon's match today I believe it would have meant a win. Pure speculation I know but I truly believe had today's starting 11 started against Japan then Cameroon would have entered this match with 3 points. And that could have changed the outcome today as Cameroon would have been under much less pressure. Instead they have been eliminated from the World Cup at the group stages for the 4th time since the 1990 team stunned the world.
And that failure is on Paul Le Guen for playing a line up that would not have even made sense in a friendly against Japan.
Subscribe

Cameroon World Cup Team Blog RSS Feed

Share
blog comments powered by Disqus