Can the Indomitable Lions be Fixed?
June 16th, 2010 | by: shane |

View Comments
Following Cameroon's tepid display in their World Cup opener against Japan which has left their dreams of advancing in tatters, the first question that comes to mind is can this group of 23 players be fixed in time for the Denmark match?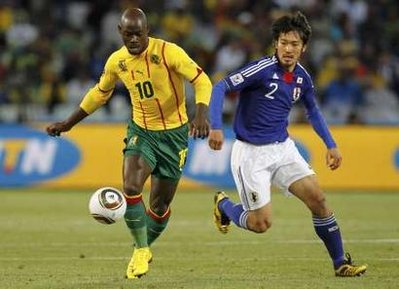 The simple answer is no, because in manager Paul Le Guen, they have an incompetent coach who demonstrated he has no idea what he is doing with the line up he fielded against Japan. But that is taking the easy way out. I do not believe that the Cameroonian players will quit, at least not against the Danes. Ultimately I think they will lose to Denmark but I hope they put in a more spirited showing assuming the 11 players fielded make a little more sense.
But to fix Cameroon we must know what the problems are, inept manager aside. Conventional wisdom coming into the tournament was that the two biggest issues facing Cameroon were a questionable back four and figuring out who to pair alongside Samuel Eto'o.
To be frank I was never much concerned about the first issue. True Cameroon's defense was shambolic in Angola for the Africa Cup of Nations, but that was not the first choice back four that was fielded by Le Guen. For one it took until the match against Zambia to reveal that Rigobert Song could no longer be a starter against teams with pacy forwards which Zambia had in James Chamanga and Jacob Mulenga. So in some ways the match against Zambia was a blessing as it showed that while Rigobert Song could still play a role, that role was not as a starter. The tournament also showed that Nicolas Nkoulou was ready to be the leader of the back line. Another reason I was not worried about the defense was because both Sébastien Bassong and Benoît Assou Ekotto were not available in Angola, Bassong had not been called up for some mystery reason and Assou Ekotto was injured. Finally, Stéphane Mbia was still being used primarily as a midfielder.
Of the 4 starters in defense for Cameroon against Japan only one, Nicolas Nkoulou, was a starter at the Nations Cup. While the Cameroon defense in Angola was an unmitigated disaster, Nkoulou aside, the issues were largely resolved by the time of the World Cup. Cameroon had one defensive lapse against Japan and it was a costly one as the Japanese goal came as a result. However, over the course of a 90 minute match almost every defense is going to make a few mistakes, unfortunately for Cameroon it was one in which Japan did not let them off the hook for.
The other big question mark most people had for Cameroon was who would be Eto'o's strike partner. Again that was not an issue I was particularly worried about. Not because I thought there was an obvious candidate but because all of the candidates were likely to yield the same result. Idrissou, Webó and Choupo-Moting (who I never considered) are all capable of some good play but at the end of the day are average strikers. In short I thought it was an area of concern in which there was no real solution other than pick a player and hope he came through.
For me the secret weakness of the Indomitable Lions was the redundancy in midfield. Cameroon have a lot of quality midfielders, some of them are playing at illustrious clubs like Arsenal (Alexandre Song), Marseille (Stéphane Mbia), Lyon (Jean Makoun), Ajax (Eyong Enoh), Celtic (Landry Nguémo) and Schalke (Joël Matip). The problem with all of those players is that they are largely identical. All quality but mostly of the same variety. They are central midfielders, mostly defensive minded midfielders. None of the those players listed have the ability to consistently link the midfield up with the attack. They can all win the ball from the opposing team and run for hours but none of them are creative midfielders and none of them are capable of adding width to the team. And as we saw against Japan when Le Guen picked Matip, Makoun and Enoh the midfield was largely bypassed when Cameroon tried to create attacking moves because those three players were all incapable of doing so. The attacks mustered by Cameroon came from left back Assou Ekotto and right back Mbia.
The one midfielder Le Guen had available who was capable of creating from the midfield and providing the ball to the strikers was sitting on the bench: Achille Emana. Emana is a versatile player capable of being a more defensive minded midfielder but he is best utilized as an attacking force. He was one of the few bright spots of a Real Betis squad that got relegated from the Spanish top flight in the 2008-09 season. He was the star performer for that Betis side with his attacking forays. Emana is powerful, capable of scoring goals, creates havoc for defenders and most importantly can provide his strikers with scoring opportunities. For Cameroon he is an indispensable figure who could not afford to be left on the bench, which of course meant he was.
But one creative midfielder is not enough. That is where Geremi comes into play. The conventional logic coming into the World Cup was that Geremi was washed up and didn't belong in the squad anymore. That logic was faulty as Geremi who can also play at right back was along with Emana and possibly Georges Mandjeck the only midfielder capable of adding width to the Cameroon midfield and generating attacks down the flanks. In his all too short cameo against Japan we saw what Geremi adds to the Cameroon attack by getting down the right flank and providing quality crosses into the box. It was also on display in the friendly against Serbia when he came on as a substitute. Geremi may not be able to play effectively for 90 minutes anymore, but for 60 minutes or so he would have added much more to the Cameroon attack than Enoh or Matip did.
Can Emana and Geremi solve the problems in Cameroon's midfield? Probably not as there are still too many redundant players in the midfield but they have a better chance at doing so then a deployment of Makoun, Enoh and Matip. Replace one of those three with Alex Song or Nguémo and the problem remains the same. However if you take out one of the three strikers and move Eto'o to the center and take out Enoh for instance and add Emana and Geremi, then the Cameroon midfield all of the sudden has players who offer different qualities.
In sum I would like to see Le Guen drop the 4-3-3 formation against Denmark in favor of a 4-3-1-2. The back four should stay the same but in midfield I would like to see Makoun, Alex Song and Geremi on the right with Emana playing just behind Eto'o and I don't particularly care who partners him. I think that is a team that is far more likely to pose dangerous question to the Danish defense then the utterly inept midfield of Enoh, Matip and Makoun with Eto'o sabotaged on the right wing. That is a line up that makes sense. A line up of Enoh, Matip, Makoun-Choupo-Moting, Webó and Eto'o does not.
Subscribe

Cameroon World Cup Team Blog RSS Feed

Share
blog comments powered by Disqus