Cameroon Disgrace Themselves, Lose 1-0 to Japan
June 14th, 2010 | by: shane |

View Comments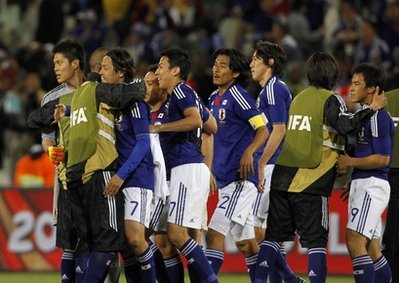 Cameroon finally debuted in the World Cup today and the world will wish they had not. If there is a word to describe Cameroon's performance it would be putrid. The line up was all wrong, the performance of the players was luckluster particularly in the dreadful first half. They faced an opponent who at the end of the day provided almost no attacking threat. Here are my thoughts on the match:
-As soon as I saw Emana on the bench I knew the game was lost. I said in the preview they would have no chance of scoring goals if Emana didn't start. That is exactly what happened. In the first half the attack was aimless consisting mostly of long balls that never came close to connecting. Emana when he came on wasn't great but Cameroon looked more dangerous.
-Paul Le Guen could not have got the starting line up any more wrong then he did. The back four was fine for the most part and Hamidou in goal did not matter as Japan mounted almost no attack. Cameroon's midfield is filled with redundant players and those selected offer nothing going forward. Eyong Enoh, Jean Makoun and Joël Matip were all waste of spaces. Matip and Enoh in particular gave the ball away repeatedly when under little pressure. The movement off the ball from the midfield was non-existent until the second half when Enoh and Makoun started doing a little more moving around. Le Guen fielded a midfield that never had any chance connecting with the strikers. That is why Emana had to start and why Geremi maybe should have as well.
-Le Guen totally wasted Samuel Eto'o. Eto'o is a striker, not a right winger. I know he spent most of the season in that position for Inter but he did not exactly have a great domestic season, arguably his worst in years. With a midfield unable to get him the ball Eto'o was on the periphery of the match the entire time. He had one dangerous moment in the second half which should have resulted in a goal but otherwise was starved of service and easily marked out of the game by Japan. He should have been in the center of the pitch in a two striker formation.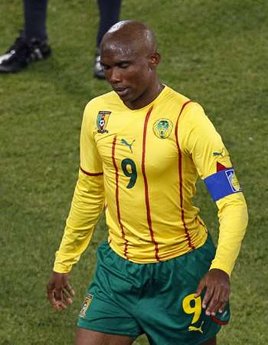 -Le Guen waited entirely too long to change things. Bringing out the same 11 players for the second half who had just wandered around the pitch aimlessly for 45 minutes was mind blowing. How Le Guen thought keeping things the same could provide results I will never know. It nearly did due to a solitary moment of Eto'o magic but down a goal with your World Cup virtually on the line already and fielding the same 11 players cannot be excused.
-I don't know what Le Guen thought was going to happen in that first half but the team seemed to have no idea what to do. Whatever the game plan was it failed miserably.
-Starting Alexandre Song on the bench was irrelevant. I can't criticise Le Guen for Song not playing as he would not have helped matters any.
-Stéphane Mbia had a very good match sans for one moment. Unfortunately for Mbia that one moment resulted in Cameroon's defeat. Mbia left the man he was supposed to be marking to attempt to head a cross clear of danger, he missed that header and the ball went right to the man he was supposed to be marking: Keisuke Honda. Honda easily converted the chance as any good striker would. Mbia was one of the few players looking to make something happen in the first half but his decision to leave Honda has probably ended Cameroon's World Cup.
-Eric Maxim Choupo-Moting had a miserable afternoon. His touch let him down repeatedly, he took one of the worst corner kicks you will ever see and he squandered Cameroon's best chance of the match. When you are teed up, unmarked for a shot on goal with the keeper stranded you simply have to put the ball in the back of the net. Choupo-Moting failed to deliver in a big way following Eto'o somehow beating three Japanese defenders and squaring the ball to Choupo-Moting. That has to end in a goal and the young striker was not up to it.
-Achille Webó failed to deliver in a big game once again. Ever since his heroics in qualifying against Côte d'Ivoire back in 2005 he has failed to come up big when Cameroon needed him. That held true today though it can't all be attributed to him.
-Mbia's pulverizer of a shot from distance deserved to find the back of the net. That was by far the best strike from distance we have seen in this World Cup and for that reason deserved to result in a goal, not that Cameroon deserved the goal.
-Japan were a poor side today. They never looked like scoring until they took advantage of their one great chance following a defensive error and never looked like a scoring again afterwards. They did defend well but it is hard to know how much of that was actually good defending compared to inept offense. I'd say it was probably 50% good defending and 50% inept offense. Despite how bad they may have looked, you don't get bonus points for winning pretty. They found a way to win and deserve credit for that. It is also their first ever World Cup win in a match not taking place in Japan. Kudos to them for that but I expect they will still find it difficult to get out of the group.
-I think this was probably the worst officiated match of the tournament so far. The referee blew his whistle way too many times on minimal contact, even managing to show Nicolas Nkoulou a yellow card for a foul which did not occur. He did not cost either team but was too eager to blow his whistle, at least he kept his cards in his pocket for the most part with only two bookings I believe, one for which side, though I think neither booking was correct.
-The World Cup so far has been dreadful and this match did absolutely nothing to change that. I don't know if it is the ball which seems impossible to get a decent strike on so far or managers being afraid of losing. Whatever the case this is shaping up to be an abysmal tournament. I really hope that changes.
-I said in my preview that I thought if Cameroon did not win this game then their World Cup was over. After losing today I can confirm that Cameroon will be going out of the group stages for the 4th consecutive World Cup. As poor as Denmark and the Netherlands looked this morning, Cameroon looked even worse. The only hope I can see is by defeating Denmark and then Denmark beating Japan with the Netherlands winning all their games. That would leave the other three all on 3 points with tiebreakers of goal differential and goals scored. That to me looks like the only avenue.
I can only hope the Indomitable Lions will respond in a big way on Saturday against Denmark but I don't see that happening especially with Paul Le Guen in charge of selecting the team. At this point I think I would be a better man for the job.
Subscribe

Cameroon World Cup Team Blog RSS Feed

Share
blog comments powered by Disqus